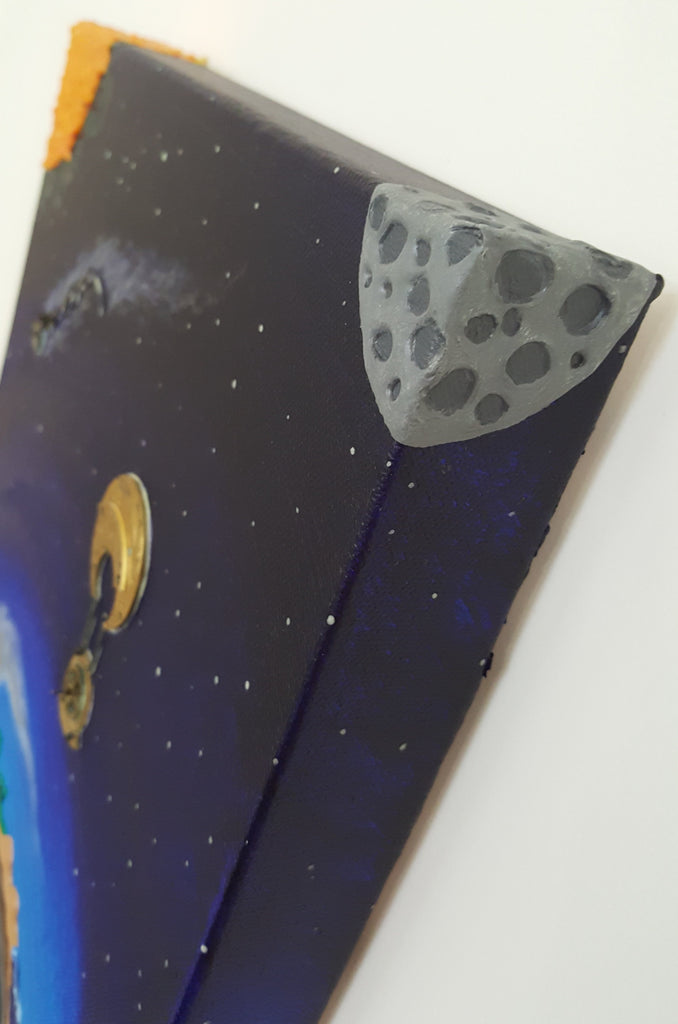 "First Flight" - Verge Fusee Chain
$0.00
The first hot air balloon flew in Philadelphia, PA. in 1793 and George Washington himself was there to witness it.
This watch parts painting includes parts from a Verge Fusee Chain Pocket Watch that was made in the late 1700s. So someone there might have been wearing a pocket watch similar to this one.
The parts used show some amazing engraving, including the use of a Snail and a Hare for fast and slow.
Funny to think that over 200 years ago when the gentleman made this beautiful timepiece, he probably didn't think that another guy in the year 2020, while blasting David Bowie Moonage Daydream on repeat, would dissemble the remaining pieces and immortalize it into a painting.
The watch parts glow in the dark along with the sun, moon, and stars. It features a 3d cross-cut Earth so you can see the inner core, outer core, mantle, with volcano erupting lava. There is a small iceberg floating off a glacier. There is a lot of depth to this painting and like all Spacestronaut painting, they are painted on all the sides, so you can view it from any angle.
Each painting comes with a Certificate of Authenticity which includes a signed letter with holographic ID number matching the handwritten note card attached to the back of the painting. These ID numbers our on an online database for reference.